Concrete Testing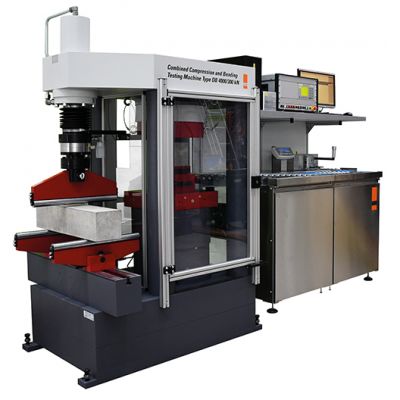 w+b offers a wide range of testing machines for different concrete tests. Each system can be individually configured according to your testing needs for an optimal solution.
Concrete is a construction material composed of cement as well as other cementitious materials such as fly ashes and slag cement, aggregates made from crushed rocks such as limestone or granite, plus a fine aggregate such as sand, water and chemical admixtures.
Concrete solidifies and hardens after mixing with water and placement due to a chemical process known as hydration. The water reacts with the cement, which bonds the other components together, eventually creating a stone-like material. Concrete is used to make pavements, pipe, architectural structures, foundations, motorways/roads, bridges/overpasses, parking structures, brick/block walls and footings for gates, fences and poles.
In this section you find a wide range of testing machines for the determination of the strength of concrete.
In addition we offer a wide range of testing equipment for the determination of workability, consistency, setting time, volumic mass, air content, linear variations as well as for the sample prepatation a.s.o.
All testing machines and equipment conforms to the relevant international standards as EN, ISO, ASTM and other corresponding national standards.